THE MOST STIMULATING TOY YOUR BABY CAN HAVE - ENJOY HOURS OF FUN !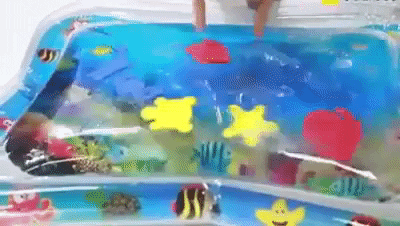 Looking for a toy that will entertain AND help with baby development?
Well you need Pat & Play™ Inflatable Baby Water Mat which help your newborn HAVE FUN squeezing, squishing and pressing the water mat while stimulating their GROWTH and development
Pediatricians HIGHLY recommend placing babies on their tummies to play because it helps STRENGTHEN their leg and arm muscles to prepare them to crawl. Pat & Play™ is a fun way to help your baby meet their developmental milestones.
NO need to worry, this mat is 100% LEAK-PROOF and made from heavy-duty PVC so you don't have to worry about messy accidents. Plus, it's DURABLE enough to pass the test of time!
EASY TO SET UP – Now all you have to do is place your baby on the splash mat and watch his/her eyes spark up with excitement. The bright and colorful foam toys move around in the water, STIMULATING your baby's eye hand coordination while encouraging them to lift up on their arms to catch the floating sea animals.
How to use it: 
Open the biggest valve first and fill the mat with tap water. Then, open the small valve and inflate with air the frame of the Mat. When not in use, the water can be drained and the mat can be folded.
This is the PERFECT GIFT for baby showers. This unisex baby toy will be much appreciated by the parents to be. DON'T be that person who buys newborn clothes that are outgrown before the baby can wear them. Give a gift that ENCOURAGES baby's natural curiosity while helping them develop their fine motor skills.
SUITABLE for babies 3 Months +
Oh and guess what? SAVE 50% TODAY ONLY 
LIMITED STOCK - Only 50 Units Available
CLICK '

BUY IT NOW

' ABOVE TO GET YOURS
Package Includes:
1 x Pat & Play™ Inflatable Water Mat
May take 1-4 weeks to arrive due to high demand.